If you have kept up with Continental Express' social media this summer, you may notice drivers at our corporate terminals have spent their weekends home out in local communities. Frank, Rick, and Jason are the drivers behind the wheels of our military trucks, all three of which have made several appearances in community parades.
The parade appearances are possible for three main reasons: 1) OTR drivers at Continental Express are home weekly. We believe that consistent home time is essential for our drivers to strike a work-life balance and be able to be present for their families. Additionally, the home weekly schedule allows for recreational fun and connecting with one's community. 2) All eight of Continental Express' terminals reside in fantastic communities. We are proud to be involved in local hometown fundraisers and celebrations. 3) Our drivers are well, the driving force behind getting involved.
Our drivers present the best ideas, and we love to run with them.
In April 2021 and April 2022, Continental Express happily supplied a truck, trailers, and extra hands to Indiana non-profit, Bikes for Kids. While our internal operations staff may have insured trailers were available for the event to provide free bicycles to children from underprivileged households, we certainly did not come up with the idea. OTR driver Gary held the program close to his heart and asked we support it too. We took him up on the chance.
Local driver and recruiter, Chris, has a son with down syndrome and pushed for the Continental Express offices to celebrate. For the past two years, on March 21st, World Down Syndrome Day, CE associates have surprised Chris' son and raised awareness by rocking crazy, colorful socks.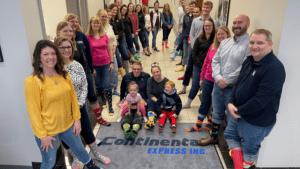 Even the newest addition to our Fleet of Heroes – the Mission 22 truck – was the idea of a driver. OTR driver Cody at our Fort Worth, Texas terminal is the proud son of a US Veteran. We were honored to hear his and his father's story. Upon looking at the many veterans in our fleet, decided we'd like to support Mission 22 as well.
So, earlier this year, right before springtime, when local driver, David, encouraged us to make more parade appearances now that those events were cropping back up from COVID-19, we jumped at the chance.
Jason, Rick, and Frank have met town mayors, fellow veterans, and countless families along these parade routes. They invite community members into their trucks, talk about the career of truck driving, bring awareness to veterans and veteran suicide, and have an all-around good time.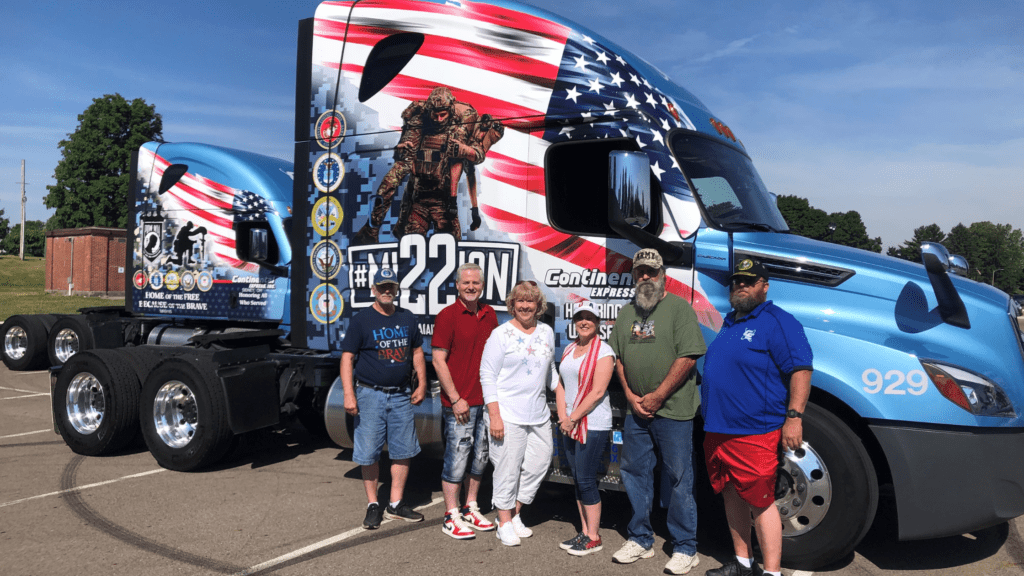 At Continental Express, one of our core values is communication. Operationally, smooth and clear communication leads to safe, on-time deliveries, but looking beyond a load, it's what helps our drivers be known. We keep our fleet to dispatcher size intentionally small, so our drivers don't become a number. We want to know Gary for his passion for serving Indiana youth and support that where we can. We want to recognize Rick as a United States Air Force veteran, and so on. 
It just so happens that a bonus of knowing our drivers and knowing what's important to them continues to fuel our community involvement.