How much does a truck driver make? At Continental Express, upwards of $117K a year.
Cheers to 2023! With the start of a new year, many Americans are assessing the past year and are looking to make changes for the better in the year ahead. For some, this means increased exercise or a better diet, while for others, it's pursuing an entirely new career.
One career opportunity that has long-proven to be in a strong industry is professional truck driving. Nearly all goods in the country are at some point transported by a truck and trailer.
Of course, for those interested in trucking in 2023, there are multiple factors to consider for a career switch – a key one being driver pay. 
How much does the average truck driver make?
In May of 2021,

The U.S. Bureau of Labor Statistics

reported the median pay of a CDL-A truck driver is $48,310. For a career essential to upholding the nation's economy, just over $48,000 a year can seem underwhelming.  
Granted, the Labor Statics don't factor in job benefits and bonuses, and the data compiled encompasses earnings from rookies to veterans hauling every type of freight. Still, for nights spent away from family, and the stress and unpredictability of the road, it seems like drivers ought to be earning more.
Many are curious if the transportation industry—after years of working through COVID-19—will need to brace for a slowing economy this year. Fortunately, Continental Express drivers are coming off of a financially strong 2022 and into pay raises in 2023.
How much does a Continental Express truck driver make?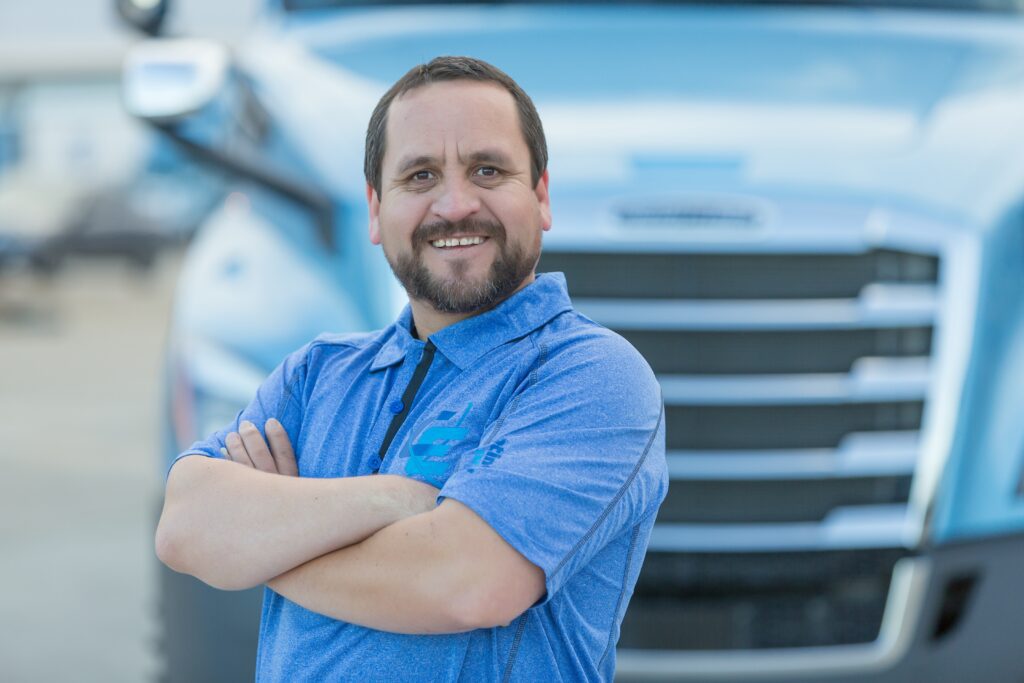 In 2022, CE OTR drivers averaged an annual gross pay of $80,000 and dozens of drivers broke $100,000. A near double of what the US Labor Statistics recognize and still well above averages recently reported by services like Indeed or Glassdoor.
That average is only anticipated to grow in 2023—Continental Express announced on January 1st that OTR base pay increased $0.03 per mile (CPM), effective in the New Year.
Additionally, team pay and dedicated pay both increased by $0.02 CPM. Hourly drivers saw a wage increase of an additional $1 – $3 an hour. And that is just base pay—all professional drivers at CE are eligible to earn weekly, quarterly, and yearly bonuses, as well as raises as early as 90 days.
How are benefits at Continental Express?
Since our founding in 1984, Continental Express has been a family-owned company. It's important to us that our drivers can support their families, both in compensation and benefits. OTR drivers are given 4 weeks of paid vacation each year (vacation pay being amongst the many raises in 2023), free driver health insurance, company-matched 401k, and weekly direct deposit pay amongst other benefits. 
Other means of boosting weekly pay include the newly increased detention pay and per-diem pay.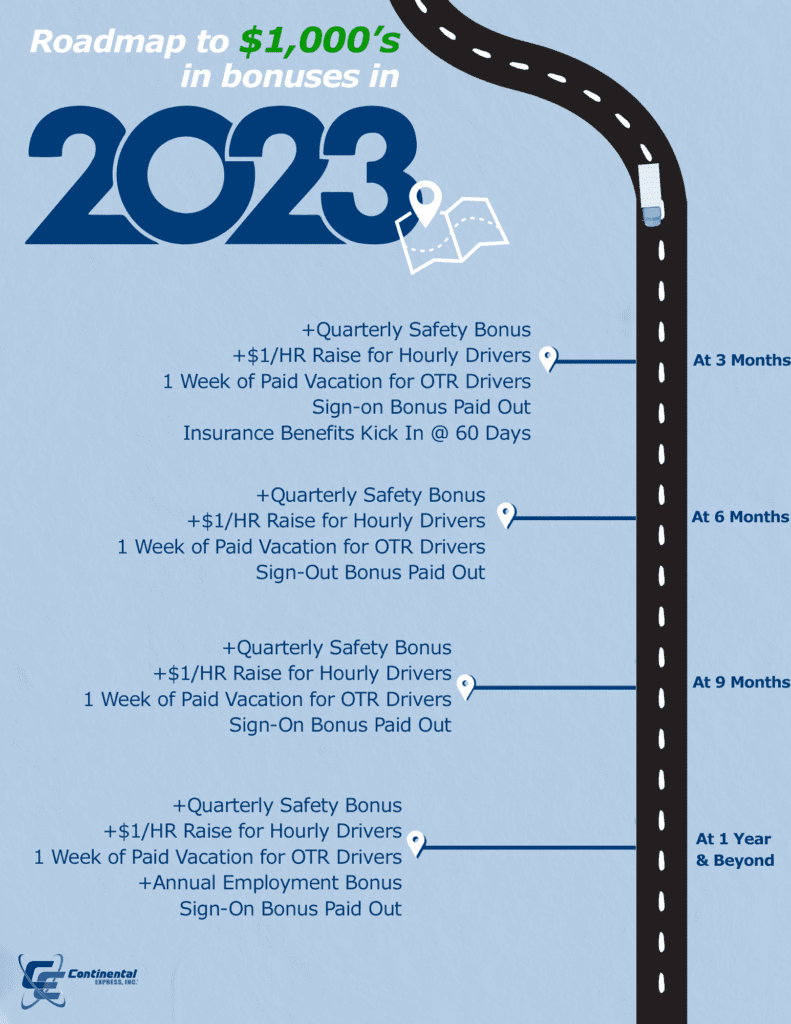 How do I get started?
CDL-A holders are welcome to apply for OTR, dedicated, local, spotter, and team company driver positions at cejobs.com, or by calling our recruiting team at 800-497-2100. Continental Express is hiring at all of our terminal locations.
Non-CDL holders can transition into a new career in 2023 with Continental Express Commercial Driving Academy. At our Indianapolis, IN terminal, students will earn their class A commercial license, train, and start driving OTR.